Do you want to build a snowman? Broadway at Brooks is proud to present Disney's Frozen: KIDs. No auditions are necessary to attend this camp.
Designed for elementary school students ages 9-11, this two-week theatre workshop will allow children to bring this 30-minute adaptation of the celebrated animated film to life. Join Anna, Elsa, Olaf and Sven, and all of your favorite characters as they embark on an epic, ice-filled journey of self-discovery, camaraderie, and the real meaning of true love. The musical includes favorite Frozen songs such as "Love Is An Open Door," "Do You Want To Build A Snowman," and "Let It Go," as well as wonderful new songs from the Broadway production. This production of Frozen: KIDS is sure to prove that "some people are worth melting for."
Perfect for students who want to develop their acting and singing skills and improve their stage presence. Broadway at Brooks brings together theatre professionals with an invaluable depth of knowledge and years of experience in the field to truly provide a meaningful and long-lasting experience. Participants will gain artistry skills, increasing their ability to execute excellent technique, through instruction from our experienced and diverse team. Learn the elements of performing in a musical with blocking, acting instruction, scene and character study, vocal technique, and movement- for beginners to pros! Every student will be challenged and take away valuable performing, public speaking, and social skills.

After more than two years of construction, Brooks' state-of-the-art Center for the Arts opened its doors to students, faculty and staff for use on October 30, 2018. The $28 million facility has transformed the school, bonding the visual, musical, and performing arts together and placing them on display at the center of campus.
The Center for the Arts consists of three structures: one each for performance, music, and visual arts. Connecting all three is a shared indoor "arts street" and outdoor courtyard. The two-level interior street offers gathering and seating areas for small groups, providing space for informal exchange, collaboration, discussion, exhibitions and receptions before and after events. The walls serve as a gallery, highlighting the arts as every member of the Brooks community passes through the building.
Performances, teaching and community gatherings have a spacious, comfortable home in the theater, designed to fit the entire student body with 387 seats. Its stage connects to a scene shop and a 1,200-square-foot Black Box theater, which provides a flexible teaching space and an additional performance venue. A costume shop, changing room and green room are included as well. Sliding barn doors increase visibility and connection in the Arts Street, as well as allow overflow standing room for large events.
Players rotate through acting, music, and dance each day. In these time blocks, students collaborate with one another, professional instructors and a teen intern team to learn their lines, notes, and choreography. There are breaks built into the day (including some outdoor time during lunch) to allow students to re-group and socialize. At the end of the day, students participate in a wildcard activity, ranging from jewelry making to karaoke, of their choice where they can gain a new skill or explore an existing interest.
| | |
| --- | --- |
| 8:30-9:00 | Drop-Off |
| 9:00-9:15 | Morning Meeting |
| 9:15-10:30 | Music |
| 10:30-10:45 | Morning Snack |
| 10:45-12:00 | Dance |
| 12:00-1:00 | Supervised Lunch/Outdoor Recess |
| 1:00-2:30 | Acting |
| 2:30-2:45 | Afternoon Snack |
| 2:45-4:00 | Wildcard Activity |
| 4:00-4:30 | Pick-Up |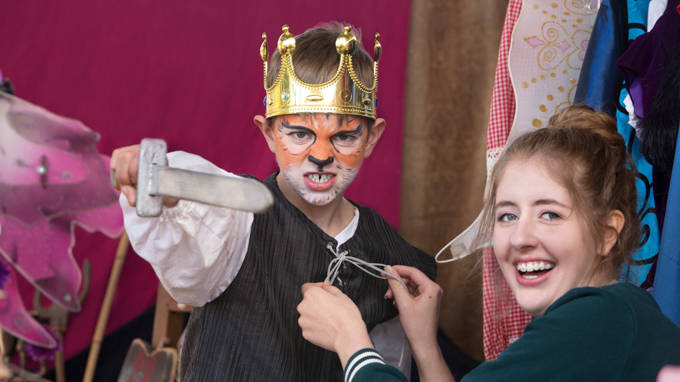 Meghan Hill
Producing Artistic Director
Megan grew up training horses on a farm in southern Mississippi before graduating magna cum laude with her BA in Theatre Studies and Dance from Wheaton College in Norton, MA where she was recognized for Excellence in Acting and awarded a Fulbright Scholarship. Hill also received a Certificate in Performance Studies and Movement from the Moscow Art Theatre School in Moscow, Russia. As a freelance director, actress and coach, she spent several years teaching communication and performance skills to young artists across America and then traveled to Istanbul, Turkey for five summers where she created and managed the performance arts portion of the Robert College Summer Program. Prior to joining Brooks School, Hill served as the producing artistic director of Watertown Children's Theatre and the Mosesian Center for the Arts youth programs, where she developed educational theater programming and high-quality productions. When she's not in the theater, Hill enjoys spending time with her family, giving new life to old furniture, and learning about holistic healing modalities.
Sarah Spollett
Art Technical Director
Sarah Spollett grew up in the neighboring town of Andover, doing hobby carpentry with her dad and community theater with her mom. She combined her love of both when she attended Massachusetts College of Liberal Arts, where she graduated Summa Cum Laude with a BA in Fine and Performing Arts, Music, and Theatre. Sarah then spent numerous years doing freelance carpentry for many regional theaters, including stints at the Weston Playhouse, Barnstormers Theatre, Tufts University, and the Watertown Children's Theatre. She was a carpenter and then shop foreperson at the Tony Award-winning Huntington Theatre Company in Boston, before turning to education. Most recently, Sarah taught technical theatre and carpentry at Emerson College. When she's not in the theater, she enjoys spending time with her husband and two children in Cambridge, Mass., where they live, and working on their service project: making meals for people experiencing homelessness.
Gayle Nutile-Pimm
Health Services Supervisor
Gayle has been working as the Brooks School Summer Programs since 2012. In this role, Gayle directs all aspects of the health center's operation in accordance with state and local regulations and collaborates with our Health Care Consultant. Her greatest satisfaction in work is seeing young adults/children begin to take responsibility for their wellness. Gayle received her Bachelor's degree in Nursing from the University of Rochester and her Master's degree from Boston College. During the school year, Gayle works as the Director of Health and Wellness at a local school. When not at work, she enjoys spending time with her family, biking, skiing, or participating in almost any type of outdoor activity.